Dallas Area Browns Backers
The Dallas Area Browns Backer club is chapter #255 of the Browns Backers Worldwide. We meet on regular season game days to watch the Cleveland Browns televised games. We are a not-for-profit 501c7 family oriented social group offering weekly get-togethers during the football season and additional events during the off-season.
The Dallas Area Browns Backers club was formed in 1980 as the Browns Backers of Texas. When the team was re-established in 1999, our club was renamed the Dallas Area Browns Backers to reflect a more localized presence. Currently we have a membership base of almost 300 and growing. Please visit the Locations page for viewing locations and individual site contacts.
​
The DABB is proud to have been awarded the Browns Backers Worldwide 2012 Club of the Year!
To become a DABB club member, just come out to any one of our viewing locations during the regular season. Memberships are $25 per individual, or $35 joint/couple. You can also pay for your membership online here via credit card or PayPal, and one of our club admin's will contact you to follow-up with a membership form. Note: shopping cart prices include the PayPal processing fee we are billed for this service.
With your Dallas Area Browns Backers membership, you will receive:
-DABB membership card & membership gift
-Raffle ticket for members only prize drawings held at each game
-Opportunities to participate in weekly squares contest and special prize raffles
-Member buffets & tailgate parties
-Discounted group event tickets
-Food and beverage discounts
-Browns Backers Worldwide membership


Browns Backers Worldwide
The Browns Backers Worldwide is the official worldwide fan club of the Cleveland Browns and is considered to be the largest organized fan club in all of professional sports, boasting almost 400 chapters in 10 countries and over 100,000 members worldwide. In both their local and online communities, Browns Backers Worldwide exists as a non-profit organization to actively support and positively promote the Cleveland Browns. In addition to enjoying the games with fellow Browns fans, BBW membership has its privileges. With your Browns Backers Worldwide membership, you will receive:

Official Browns Backers Worldwide membership card * Browns Backer E-news newsletter * 10% discount at the Teamshop and online Pro Shop (code Bbw2019) * Browns Backer events and programs held at Cleveland Browns Stadium * Other special offers, contests, promotions and communications only for Backers

To become a Browns Backers Worldwide member or to update your existing membership details, click here.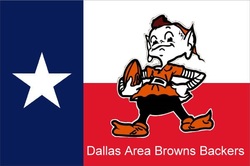 Dallas Area Community Backers
In addition to cheering on our favorite team, the DABB is proud to support the communities we live in.

Our 2019 season charity recipients by viewing location included:

Flower Mound - Denton Community Food Bank

Dallas - DFW Labrador Retriever Rescue

Richardson - Adam's Animals

Frisco - Samaritan Inn

Fort Worth - North Texas Humane society

All locations - Cleveland Browns Foundation

We thank all DABB members for their generosity!